Learning to Take Insanely Great Pictures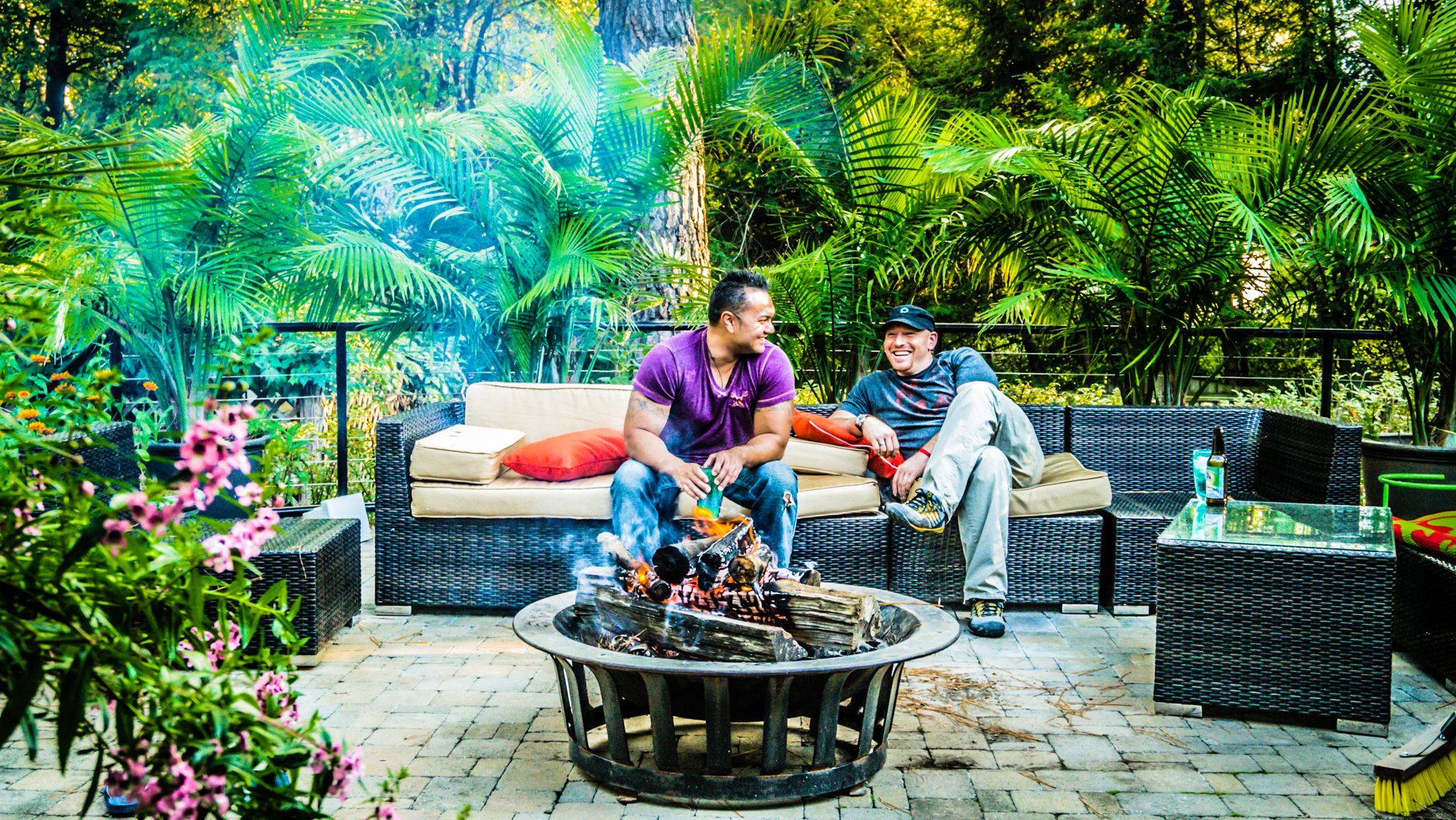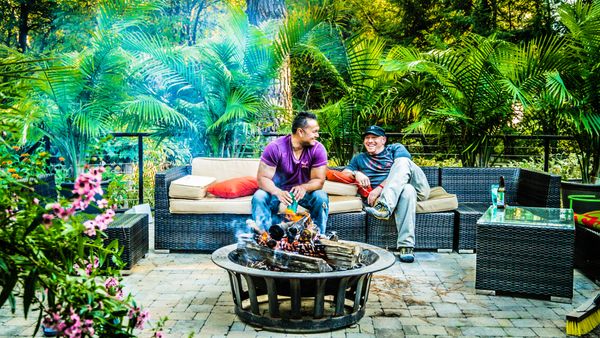 Want to see more photos I've taken? Visit my photo gallery.
UPDATE 12/13: The Lumix GX7 is the successor to the Lumix GX1 that I review (and love) below. It's pricey ($828 on Amazon or $998 with lens) because it's new, and you can now get a screaming deal on the GX1 (as low as $227). The two big advantages of the GX7 are 25% less noise in pics + wifi capabilities (including app remote control). I haven't made the switch yet, but I did do a more in-depth comparison on the two cameras here. If you do, let me know what you think in the comments below!
My wife and I are on a quest to learn how to take insanely great pictures. We are just starting this journey and I invite you to share it with us if photography is a passion of yours. The picture above is one of our first attempts at taking the kinds of photos that have a "wow" factor that transcends a regular photo. The photo was taken by my wife; that's my friend Keoni on the left and me on the right.
My first step was to learn about cameras and settle on the right one for me. After doing a lot of research, I chose the Panasonic Lumix GX1. I explain below why I bought this camera and what I think of it, and I'll be posting more in the community section as I learn more about how to take world-class photos.
As I learn more about photography, I'll also talk about post-processing, and HDR photos in particular. HDR is a technique that allows you to select each best pixel from a shot with multiple exposures, and produces stunning results. A huge thank-you to Trey Ratcliff, the blogger behind the popular travel blog Stuck In Customs. He has hours of tutorials about HDR photography that I've already benefitted greatly from. He also proves that it's not just about the camera -- for example, in this post he took a number of photos at BurningMan with various cameras and then asked readers to guess which camera he used.
Selecting The Camera
I knew I wanted a camera that was much better than a point-and-shoot, yet I didn't want the bulk of carrying a DSLR around. The camera had to be compact, yet functional. It had to have interchangeable lenses and manual aperture and shutter controls. After reading dozens of detailed reviews and hundreds of comments from users of various cameras in this category, I bought the Panasonic Lumix GX1. For $659 you can get a camera and lens that fits all of these criteria. Not only that, but this camera uses a new-ish standard called "FourThirds" which is a digital protocol across several camera manufacturers for interchangeable lenses with sensors that while smaller than DSLRs, are much larger than traditional point-and-shoot cameras (and the sensor size is the main limiting factor of point-and-shoot camera picture quality). I've found that with this class of camera, sometimes called a "mirrorless camera" or "micro 4/3 camera," you get nearly the quality of a DSLR in a form factor that's compact enough to carry in a small bag (albeit not quite a pants pocket).
Here are a few things to know about the GX1 specifically:
All GX1s are not created equal! There are two base models for the GX1. The first has a manual 14-42mm zoom lens, which you can score for $469, while the second uses a power lens, also 14-42mm, but is much more compact. It'll cost you $200 more, but to me it was worth the space savings (see the comparison picture at right -- same body, vastly different lens sizes). Having the more compact lens means I don't have to remove the lens when I take the camera in my backpack, and that means I'm more likely to take the camera with me to more places. And as the old saying goes, 'the best camera is the one you have with you to take the shot.' There are a few drawbacks to the more compact version besides the higher price tag. Some reviewers on Amazon found ghosting in the images, although based on the reviews, that problem seems to have largely gone away in more recent production runs (I haven't noticed it). But make sure to read the Amazon reviews to learn how to test for this. Additionally, I've noticed that the power lens uses noticeably more battery than the manual lens, although you can shoot on & off for several hours with either one without a problem. If you expect to be buying a number of lenses, you might want to stick with the base model and then add this very compact 20mm Panasonic LUMIX G 20mm f/1.7 Aspherical Pancake Lens which many owners rave about.
Another small thing to know about the camera is that the charger light shows as a solid green when charging, and then turns off when charging is done. A bit strange, as I thought when I dropped the battery in that solid green meant the battery was shipped full and charing was complete.
Also, if I had an unlimited budget, I would've sprung for the Sony NEX-7 camera, but it costs $1,199 just for the body. I couldn't justify the huge price gap between the two for the additional functionality of the NEX-7.
I'll post more about the camera as I start to use it, but so far I'm very happy with it. I look forward to taking this journey with anyone else who's passionate about photography. If you have tips & tricks -- especially about taking HDR photos, I'd love to hear about them in the comments below.
UPDATES:
More updates coming as I learn about the camera and taking insanely great photos.