Overlanding Mecca: 2012 Overland Expo in Flagstaff, AZ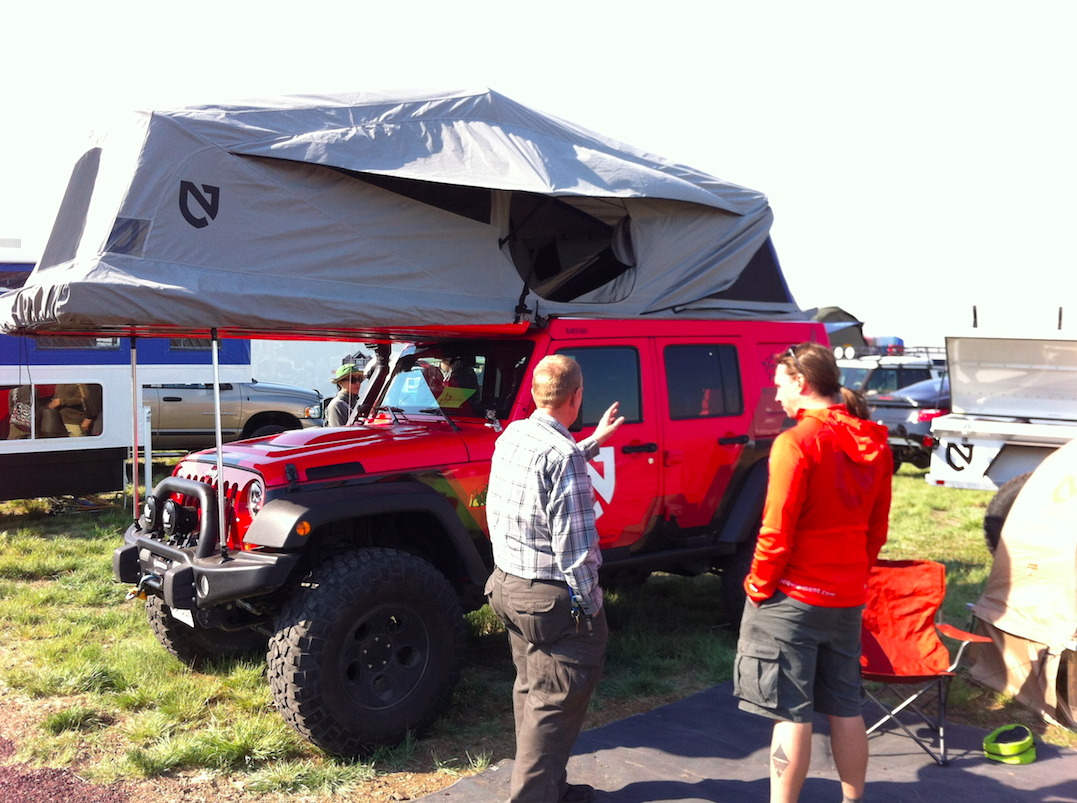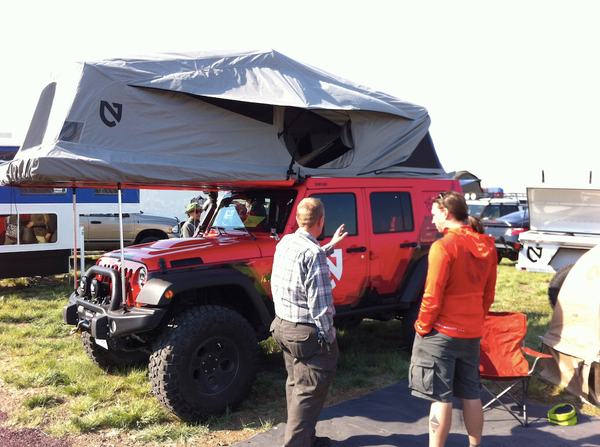 My wife and I took a road trip from San Francisco to visit the Overland Expo in Flagstaff, AZ this past weekend. The best way for me to describe it is a mecca for overlanders with copious amounts of offroad vehicle porn. If you're at all serious about overlanding, it's a can't-miss event.
We've been considering a slide-in pop-top camper (like the one Tom & Janet put on a Nissan Titan in this article), so we went primarily to learn more about slide-in pop-top camper vendors. Here's a review of what we learned, and what we experienced at the event.
About the Overland Expo:
This is a three day event in its third year. It's a mix of exhibitors and attendees who participate in overlanding, or want to get into it. Overlanding is a somewhat new term to describe self-reliant overland travel where the journey is the goal – what one might've called "traveling the world" before. Although we're interested in taking a boat around the world at some point, interestingly there is almost no overlap between overlanders and those who travel by sea, despite the vast similarities. The closest we came to seeing a crossover is the Turtle V vehicle created by Gary & Monika Wescott, who have been traveling the world in various vehicles for over 30 years. I took a video of Monika describing how they used marine-grade equipment in their Turtle V vehicle because the typical RV gear isn't strong enough for extended overland travel.
Choosing a Camper:
We met with a number of pop-top camper vendors, including Outfitter, Hallmark, 4 Wheel Camper, Phoenix, and Northstar. What's funny is that they all know each other very well — some of the brands are from rival families that split off from the original founders — and they love to boast about how their designs are superior to the others. We found the construction of all the pop-top camper brands to be of low quality, with inconsistent craftsmanship and uneven finishes. But that's typical for the RV industry, especially when compared to the marine industry. It makes sense, though — the elements are much harsher on boats than RVs, with salt water working to corrode just about everything. The one real differentiator we found was in Outfitter's designs. They have an Apex and Juno model that we really liked in particular. Things like a "basement" with the water tank and furnace in the basement area, allowing for forced air in the unit, were a few examples of the thought that's gone into designing those models. We also saw the XP Camper model, which is the model we'd buy if money were no object (at $70k or more, it's by far the most expensive option), as well as taking a video the Unimog, which is just overkill and excess.
We stopped by an RV dealer on the way back from the expo to see a Palomino Bronco 1251 model. The Bronco is built by Forest River, one of the largest RV manufacturers in the world. Where the vendors above are small, custom builders of pop-top RVs, Palomino is the Wal Mart equivalent. This means that while the Bronco is mass produced and obviously of lower quality, it's also 1/3 the price of some of the custom pop-tops, with many of the same general specs. I took a video of us looking at several Bronco models. You canread a four page thread on Palominos vs. other brands here and here's an article about a factory tour. Incidentally, after much research, we learned about a brand new Palomino line called the Bronco Max BM 864 which has many of the features we wanted from the higher end campers: aluminum frame, basement for a water tank twice the size, long-ways bed. There's not much info on it yet, but here's an articledescribing it.
Never having done this before, we're in research mode, so if any of the camper manufacturers read this, I'd love you to answer this question in the comments below: With your models running between $15k to $30k, can you give us reasons we shouldn't start with a $9k Palomino Bronco model instead? I can imagine that we'd learn a lot from having a low-cost pop-top camper like the Bronco 1251 model, and then we'd know how we wanted to spec out a more expensive unit. After spending the weekend at Overland Expo doing research on pop-top campers, that's the conclusion we came to. We've also been doing copious amounts of research on truck campers online (TCs as they're called) and came across a new website called Truck Camper Fanatic, which looks like it'll grow into a fantastic resource for truck camping. There's already a bunch of impartial info on there, but we'd like to see more non-biased, real-life reviews of campers & related accessories (especially around 'cheap' campers like the Palominos vs. expensive ones like the Outfitters!)
There was also one wildcard: Adrenalin Campers was at the show, and they have an incredible pop-open camper calledthe Rush, which is obviously made for taking hard-core abuse on the trail. Ric, an affable Aussie and the owner of Adrenalin Campers, made a really good case for having a trailer instead of a pop-top slide-in camper. In his view, you can tow a trailer much more easily than you can carry a camper, and you can get to much more rugged locales with a trailer. He was selling his trailer for $16k at the show, and it really did seem like an incredible value to us. It sets up and breaks down very quickly, and can be pulled by any decent truck (Ric highly recommends using a Defender 110). After talking it over for quite a while we decided the pop-top camper is the right way for us to go, for now, because we expect to be doing a lot of urban "stealth" style camping in urban or suburban areas, and it's not practical to pitch a tent in a hotel parking lot. But we were super impressed with the Rush camper, so definitely take a look at it if you're considering trailer campers.
Choosing a truck to haul the pop-top camper:
Coming into the expo, we were really set on getting a Toyota Tundra. We typically like Japanese build quality, and the Tundra excels to us in many areas. However, after spending the weekend at the expo, we came to the conclusion that we'd be best off starting with a 10-ish year old used diesel truck with a manual transmission. Here's why: First off, we've realized that everyone has an opinion on pickup trucks. People will brand themselves as "Ford F150 guys" and not even consider buying anything else. Being in research mode and not having any dog in the fight, our hope is that we can bring some objectivity and facts to the debate about pickup trucks, specifically with a lens toward which truck would be best to pull a pop-top camper. It's still early on in the process for us, but so far we've decided we definitely want a 10-ish year old diesel (much better gas mileage) with a manual transmission (much easier to repair outside of the US). Besides that, all options are on the table right now. We'll post a separate blog on this topic as we learn more. Comments are most definitely welcomed!
Other things we saw:
We met a great guy named Mike, the founder of Factor55 and creator of the ProLink (which we did a video on). We alsoencouraged Mike to put the ProLink on Kickstarter. If you feel the same way, you should email him. There was also just a plethora of awesome and amazing trucks and rigs, which are detailed in the photos below.
Lastly, tips & tricks:
Overland Expo had a number of fantastic panels on topics like "safety and security" while traveling, how to equip your vehicle, and much more. We gleaned a number of tips from those panels. Here are some of the highlights:
Tips for your camper:
The stock thermostat that comes in the camper has a lower range of 50 degrees. But if you're traveling anywhere colder than that, event at its lowest setting, your furnace will be running fulltime. Instead, buy a digital thermostat ($22 from Amazon) so you can set temperature to 35 degrees or cooler to keep your thermostat from running full time. (This tip is from Dave, a passionate Outfitter customer)
Get a catalytic propane heater for your RV. It's much more efficient than the stock furnace, and gives off a nice "fireplace" glow. I asked if there were carbon monoxide issues with this type of heater and the answer was "no, but keep a vent cracked just in case." $200 from Amazon (or $272 for a unit twice the size). (This tip is from Dave, a passionate Outfitter customer)
Attach a veggie/fruit hammock to the ceiling. None of the RV manufacturers except XP Camper do anything with the ceiling — it's wasted space.
Put rubber protection between the rails of the pickup truck and the slide-in camper. Helps keep the flexing of the truck frame from affecting the camper as much. Tip from Gary and Monika of Turtle expedition
Don't paint vehicle in military color; white = NGO or red cross.
Bring a Dry bag for dishes
Traveling tips:
If your'e traveling in an unsafe location and you see no traffic in the oncoming lane for 20 minutes, pull over & ask if there's anything going on down the road. Tip from Top & Janet of Adventurouspirits.
Show your face at embassy in each country so they have a vested interest in helping you. Tip from Top & Janet of Adventurouspirits.
Many people who have traveled internationally said "play dumb" when asked for bribes. One traveler said he often says, "no fumar espanol" as a joke to break the tension.
Get a carnet in Canada (harder to get in US)
Get proper discharge paperwork for your vehicle at every border, and get a bill of site from the home country to avoid fees if you don't get the proper paperwork.
Have 2 passports, so one can be getting visas while you're traveling. DHL can have your second passport to you in 48 hours, worldwide
Don't carry firearms — you won't be able to get them across borders. If you're going to carry a knife (recommended), then carry a machete. Machetes are considered agricultural tools in 99% of the world.
Buy & provision your gear in your home country, unless you're going to South Africa. It's easy (and cheaper) to get & sell gear there.
The police structure in most areas is: local, state/federal, then military. Local is typically the most corrupt and likely to ask for bribes.
If you're going to give into bribes, bring a fake "bribe" wallet with a few $5 bills in it. Pull this wallet out so you can say "this is all I have on me."
Bring a Polaroid camera so you can take pictures with locals.
If you're not sure that a fee is real or a bribe, just ask for a receipt. No receipt, no payment.
Always decline the first amount being asked for, if you're being bribed. You can almost always negotiate.
There's a 6 hour difference between Nepal & China which means that there's only 1 hour open to cross both borders
Know local time of exit & entrance times for border crossings.
For travel in central asia, visas are often required and can take 6+ weeks.
Stencil an image of an attack dog on the side of your vehicle, and always cover your windows. Out of sight, out of mind.
One idea: Have audio loop of an attack dog (possibly triggered by movement?)
Take separate health insurance as a couple (some couple-based insurance requires you both to be together and dissolves if one person has to stop traveling). Tip from Top & Janet of Adventurouspirits.
Pictures from the Expo: