Mobile Web vs. Native Apps: Daniel Moderates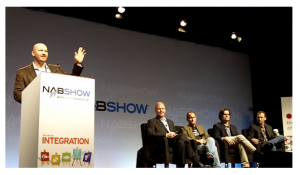 Yesterday I moderated a panel on mobile web vs. native apps, courtesy of Digital Media Wire's conference track at the National Association of Broadcasters NABShow conference in Las Vegas. Here's the session description:
Mobile Apps v Mobile Web: What's the Winning Formula?
With the proliferation of the Apple iPhone and iPad, Google's Android platform and new Blackberry services, there has been an explosion of growth of mobile applications of all kinds. At the same, more consumers are accessing content through the "mobile web", i.e., sites created specifically for mobile devices and accessible through mobile browsers with no download or installation required, than ever before. With the huge buzz around apps it would seem that mobile applications are taking over, but the race is far from over. This panel will discuss the competing considerations in determining whether to go app
or web. Will the "mobile web" eclipse "mobile apps" in the future? Who will be the winners and losers?
The session featured the following panelists:
Gadi Mazor, Co-Founder & CEO, Nobex Technologies
Peter Scott, VP, Emerging Media, Turner Broadcasting/NBA Digital
Jason Deal, SVP, Digital Account Director, Initiative U.S.
Jim Spencer, Founder and President, Newsy
Here's a video of the event: