Got My FoundersCard Today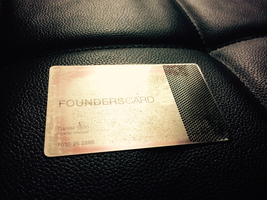 2014 UPDATE: Lots of new benefits, including airline tickets -- up to: 25% off Qantas, 25% Cathay, 20% off Virgin Atlantic, 15% off Emirates, 10% off British Airways, 5% off AmericanAirlines, 5% off JetBlue. Other benefits like 15% off Hertz, 6 months free of CLEAR membership, a free year of TripIt Pro, $50 in free credit at GetAround and HotelTonight.
Just got my FoundersCard today. FoundersCard is a new program that gives entrepreneurs some love via discounts from top tier brands. (If you're an entrepreneur and you want to apply, you can use my charter member discount code to cut the $795/yr membership fee down (a guaranteed rate for life of $395/yr). Click here, then hit the "apply now" button and use my discount promo code "FCDANI404" in the referral section to get the rate.
Having come from the corporate world 10 years ago, where everyone is telling you what a star you are, I can definitely say that being an entrepreneur can be lonely. Not lonely in a bad way at all, but in a "you have to pat yourself on the back" way because until you get some traction, there won't be anyone else around you that's as passionate about what you're doing as you are. So it's nice to have a group like this one that's "got your back" as an entrepreneur.
hi
//