Finding Dispersed Campsites To Work (and Play!) From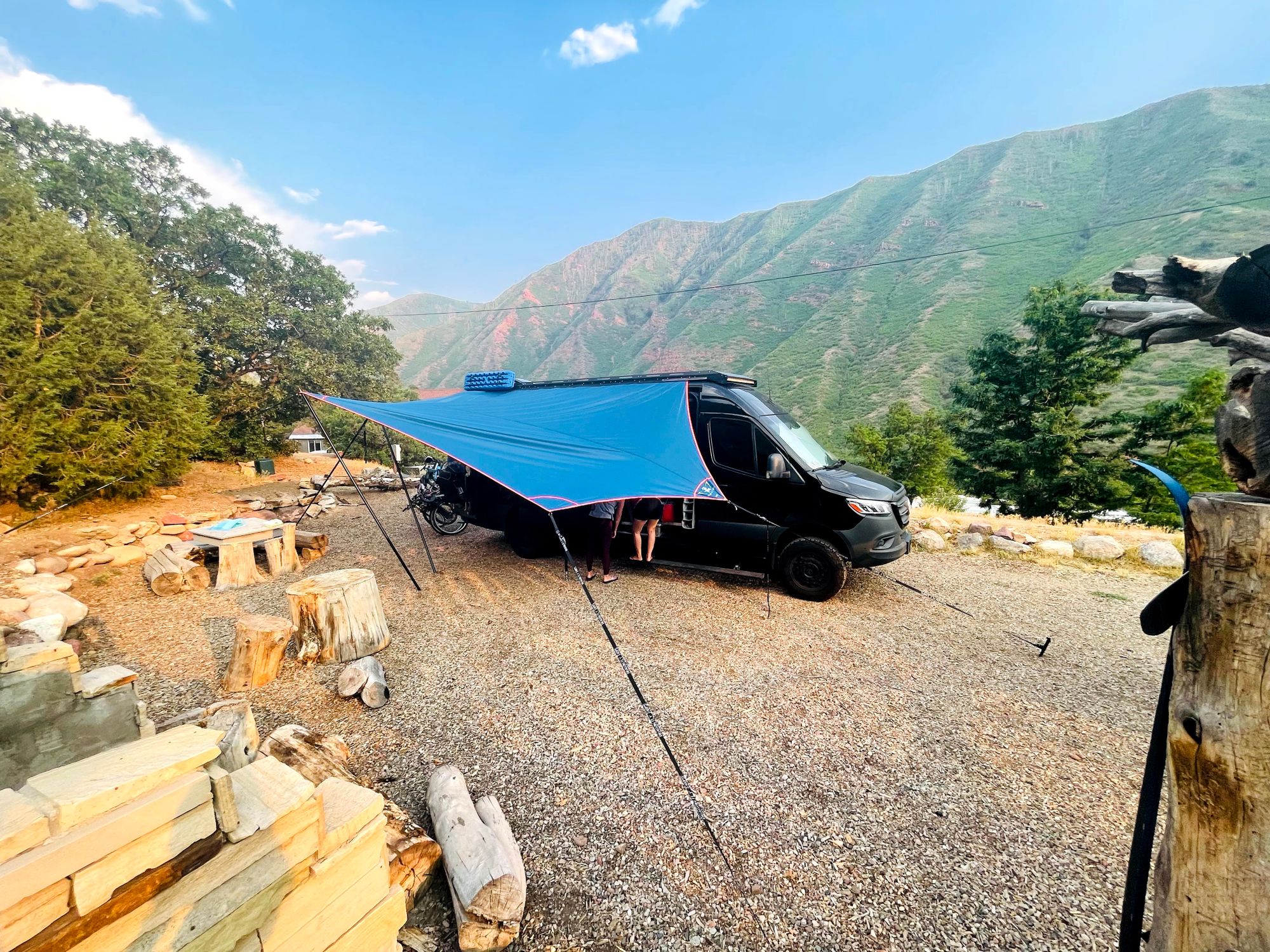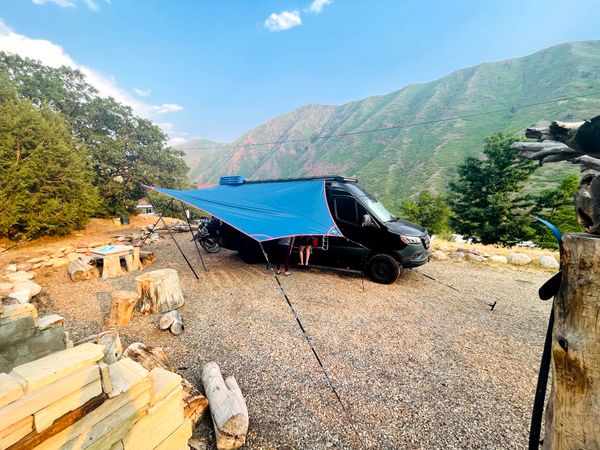 I just had someone named Robert email me:
I've followed your blog for a while and got inspired to start incorporating elements of van life into my day to day. Haven't took the full plunge yet, but I bought a portable power station/solar panel/hotspot with the hope of being able to work from anywhere.
Mind if I ask where the top picture is from your post here? It looks like a nice secluded spot. Also, any places you recommend in the Bay Area to drive out, put down a folding table and do some work?
Robert, here's your answer!
I use a few resources to find great spots to work & play from all across California, and nationwide. Here's a cheat sheet for you!
Be prepared to do your research:
It's harder than it should be to find great dispersed campsites in California. First, understand what public lands offer it. For example:
There are also a range of options – from official USFS or BLM dispersed camping sites, to apps that let you find unoffical spots "behind a gas station" or "in a grassy pulloff with no noise." I've segmented these out below.
Finding official, sanctioned dispersed campsites:
Outly: A great way to find campsites (and to filter those with cell coverage):
Outly is an incredible resource. It's a map that lets you turn various layers on & off – campsites; dispersed campsites; streams; creeks – even a cell coverage overlay, by cell provider.
Outly is also a great way to find dispersed campsites, which is important in CA, because the ReserveCalifornia campsites book up really quickly.
Here are a few screenshots: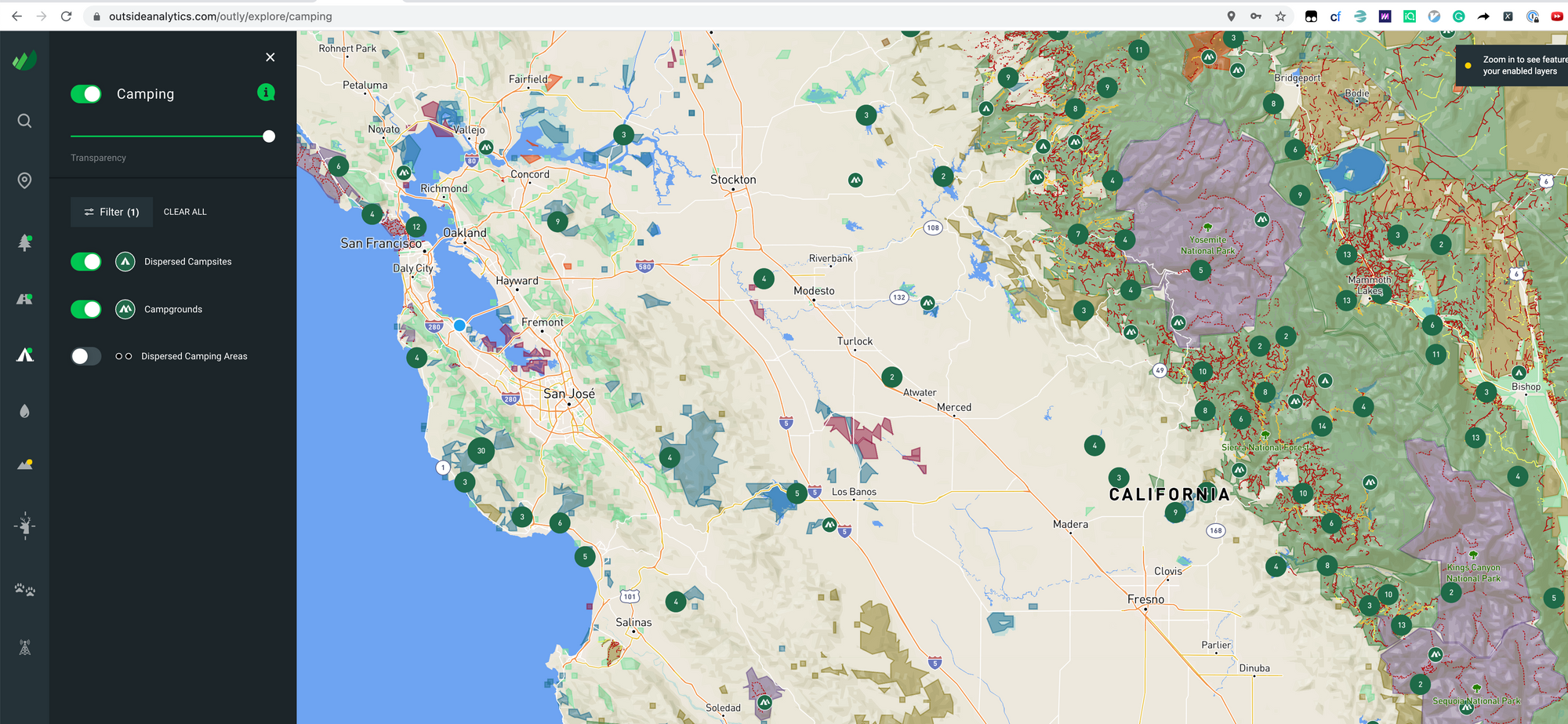 OnX Offroad:
OnX maps (requires a subscription but inexpensive) offers various kinds of offline maps, including maps special maps of trails. The hack here is to find trails within USFS / BLM public land – this means you can find a spot to camp along a trail pull-off.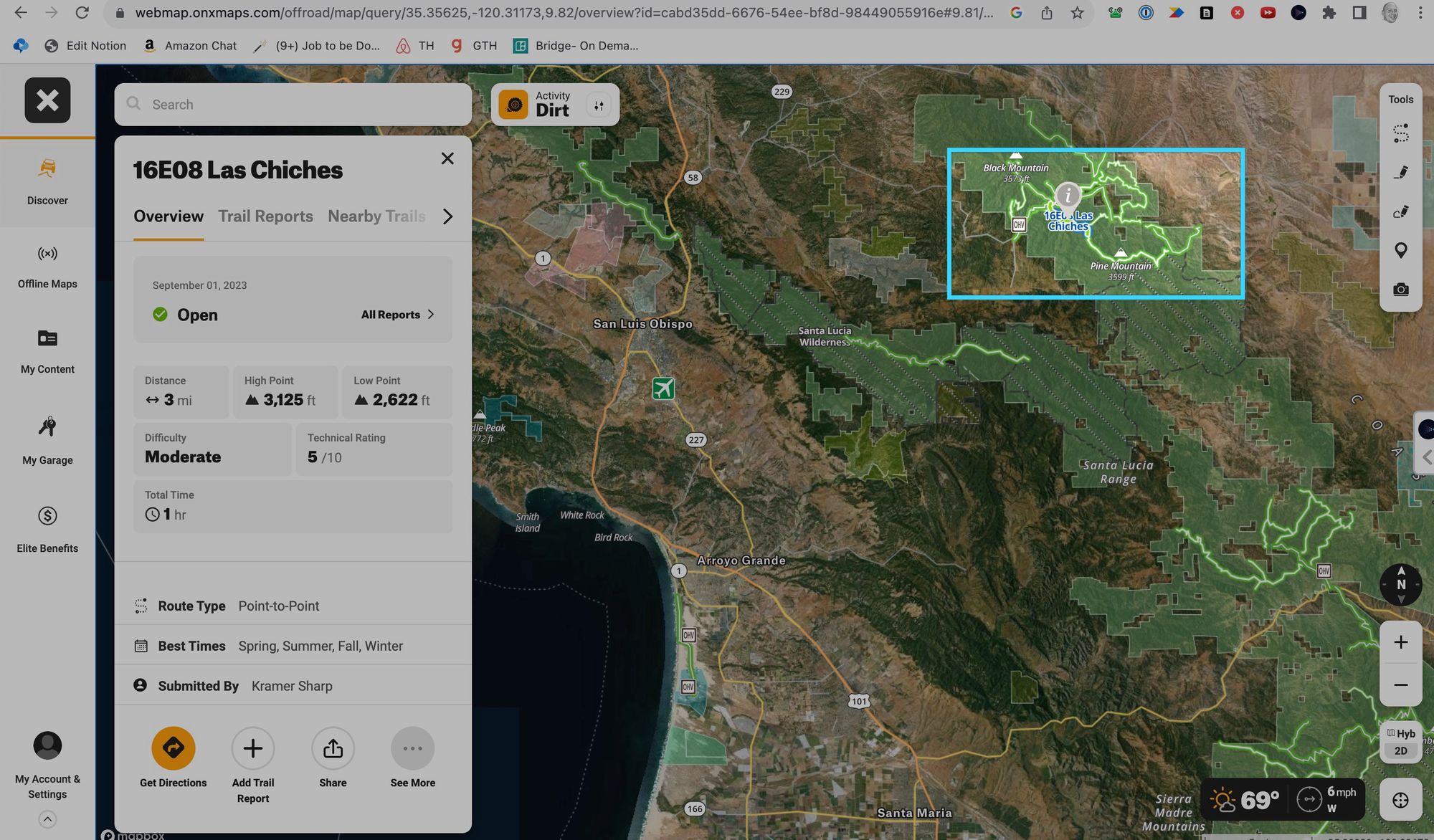 The Dyrt:
The dyrt (requires a subscription but inexpensive) resource has a filter for dispersed campsites: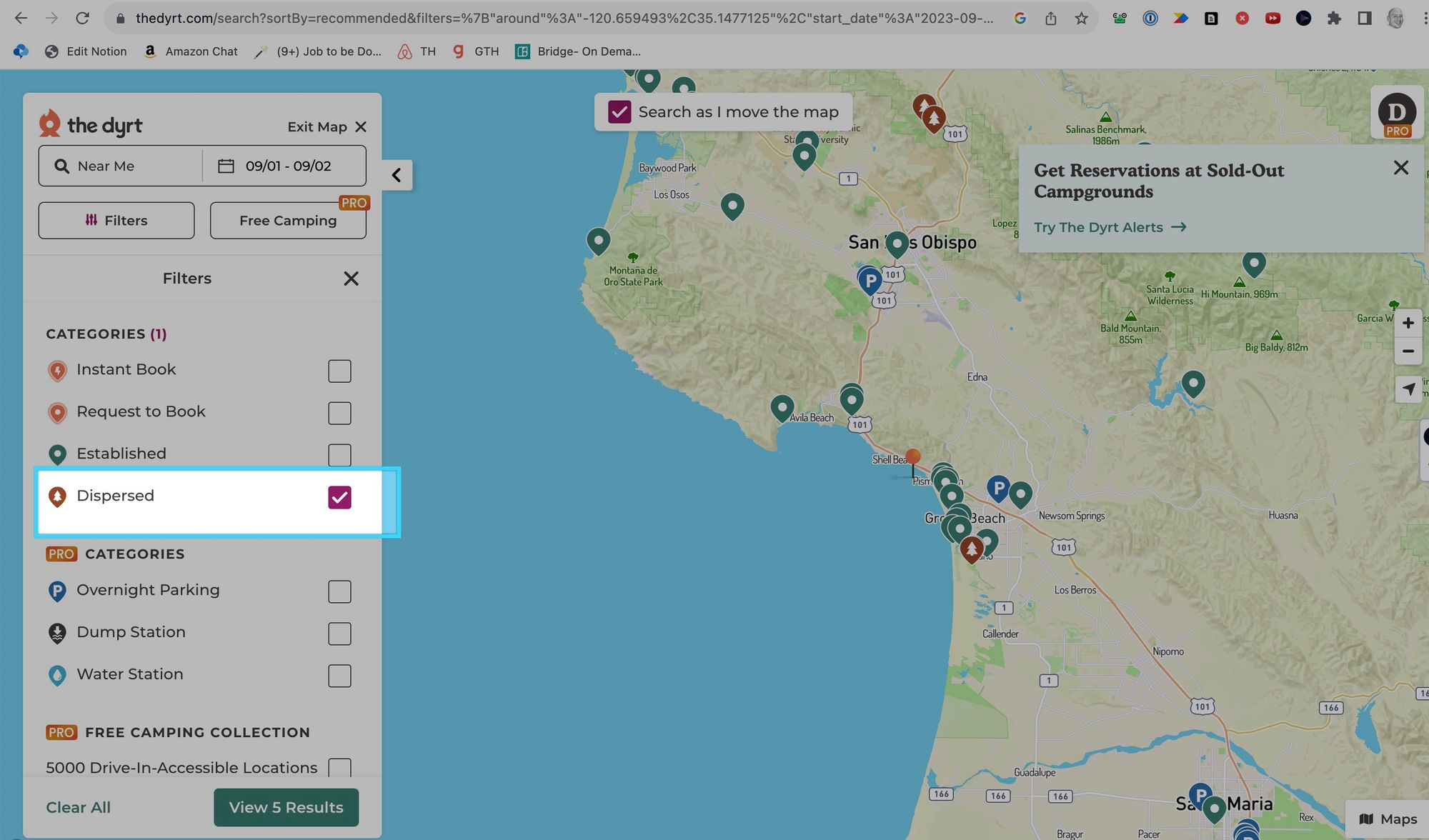 And reviewers often post photos – like this spot near SLO / Pismo Beach, CA.
TrailsOffroad
TrailsOffroad (requires a subscription but inexpensive) resource is great for finding dispersed campsites on trails. Go to the search box, and do an "advanced search" to find trails that have campsites. You can also set a max trail difficulty rating (important for me with a 4x4 Sprinter – it's no Jeep Rubicon!).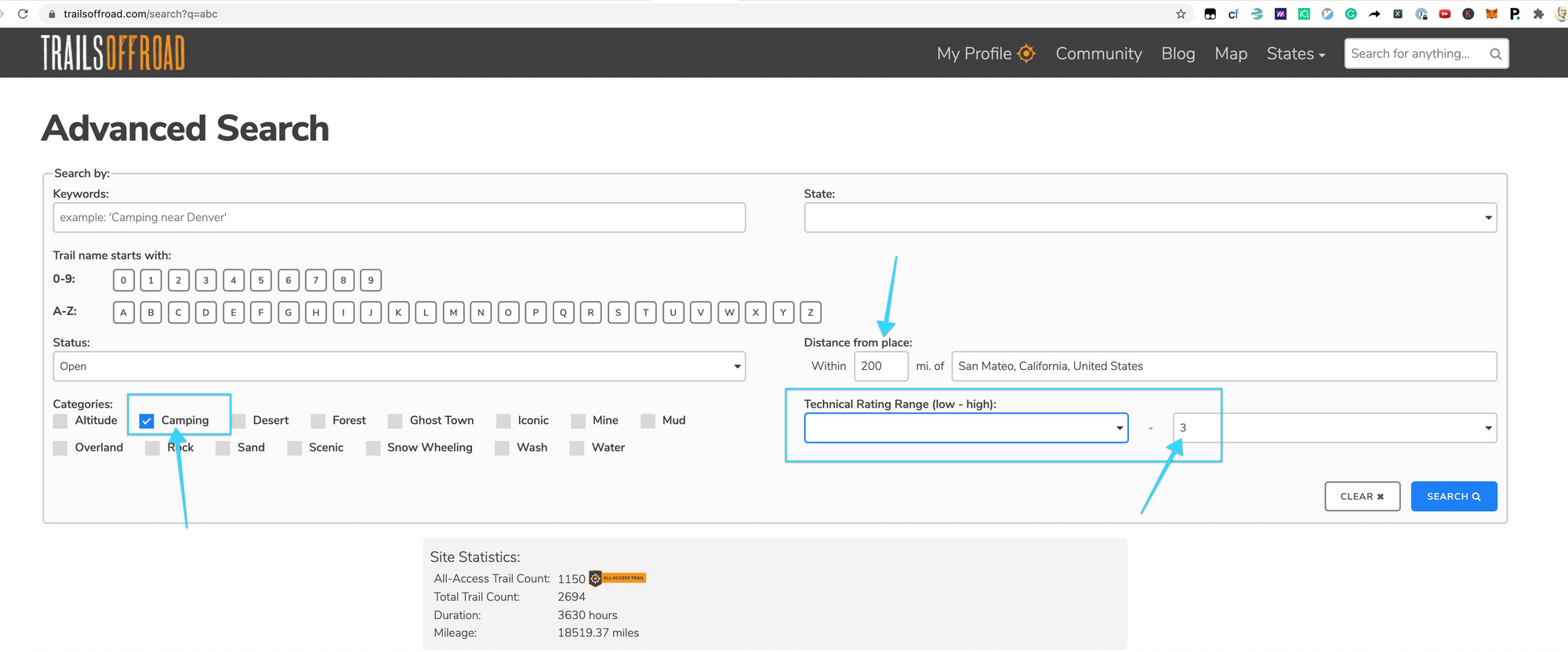 Once you find a trail, you can use Outly to check the cell coverage map if you want to be working while you're there.
The thing I love about TrailsOffroad are the copious photos & mile markers of the trails – you can really get a good feel for the spot before you go: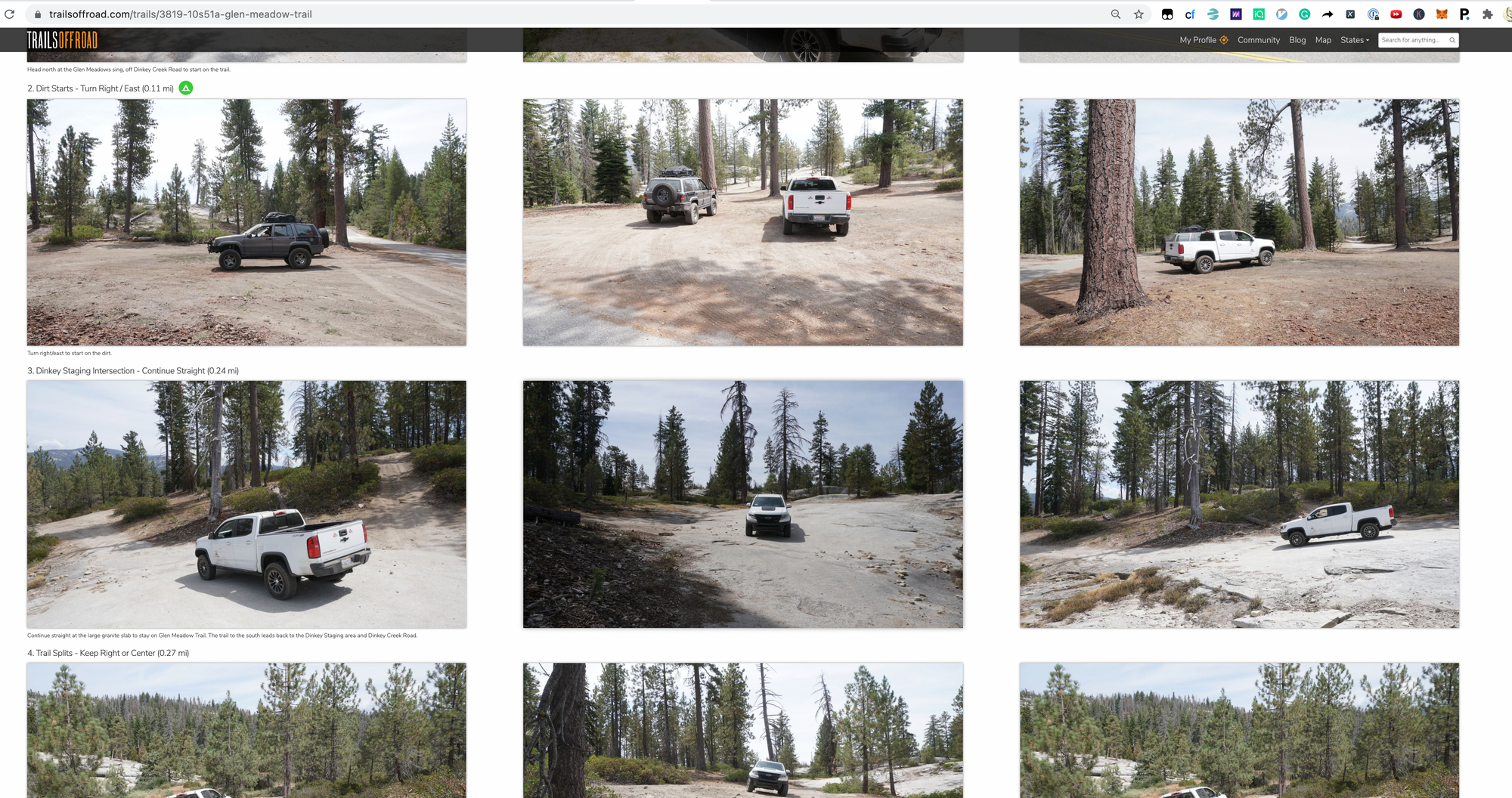 We recently did a six week, 8,300 mile road trip across the US in our Sprinter (some pics of that at bottom!). We used a few resources to find great camping spots while we were traveling cross country. Here are two of our favorites:
Harvest Hosts:
HarvestHosts (also requires an inexpensive annual subscription) lists wineries, golf clubs, farms, etc. that have opened up their spots for guests to spend the night. It's a nice idea because the spots are often beautiful, and who doesn't want to kick off at a winery at the end of a long day of driving?! The only catch is you often have to arrive before it gets dark, and you're expected to patronize the establishment (seems like a fair trade to us).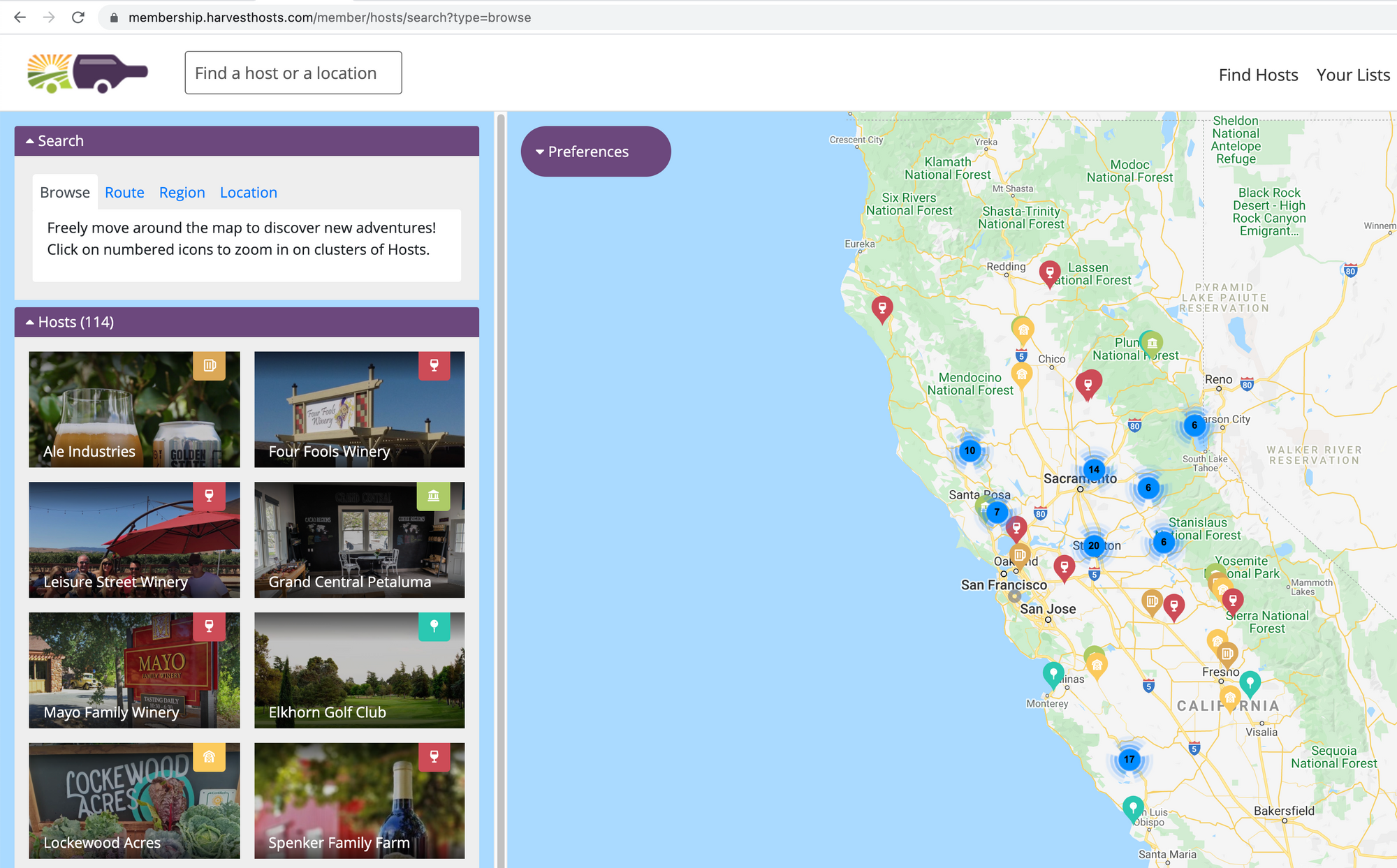 Other resources:
There are other resource I use less often, like Campendium, as well as helpful articles like this Dispersed Camping in the United States' National Forests, How to Find Free Camping in California's National Forests and many more (just do some Googling).
Unofficial & Unsanctioned Dispersed Campsites:
Next we get into the world of unofficial sites – these apps are handy when you're on a roadtrip and you're not sure when you'll need to pull off for the night. Finding an out-of-the-way spot is often referred to as "Stealth" camping. Sprinter #vanlife owners tend to love doing this :) because it gives you ultimate flexibility.
iOverlander
iOverlander is the ultimate stealth camping resource. It's full of user reviews listing spots (even in cities) where you can park overnight.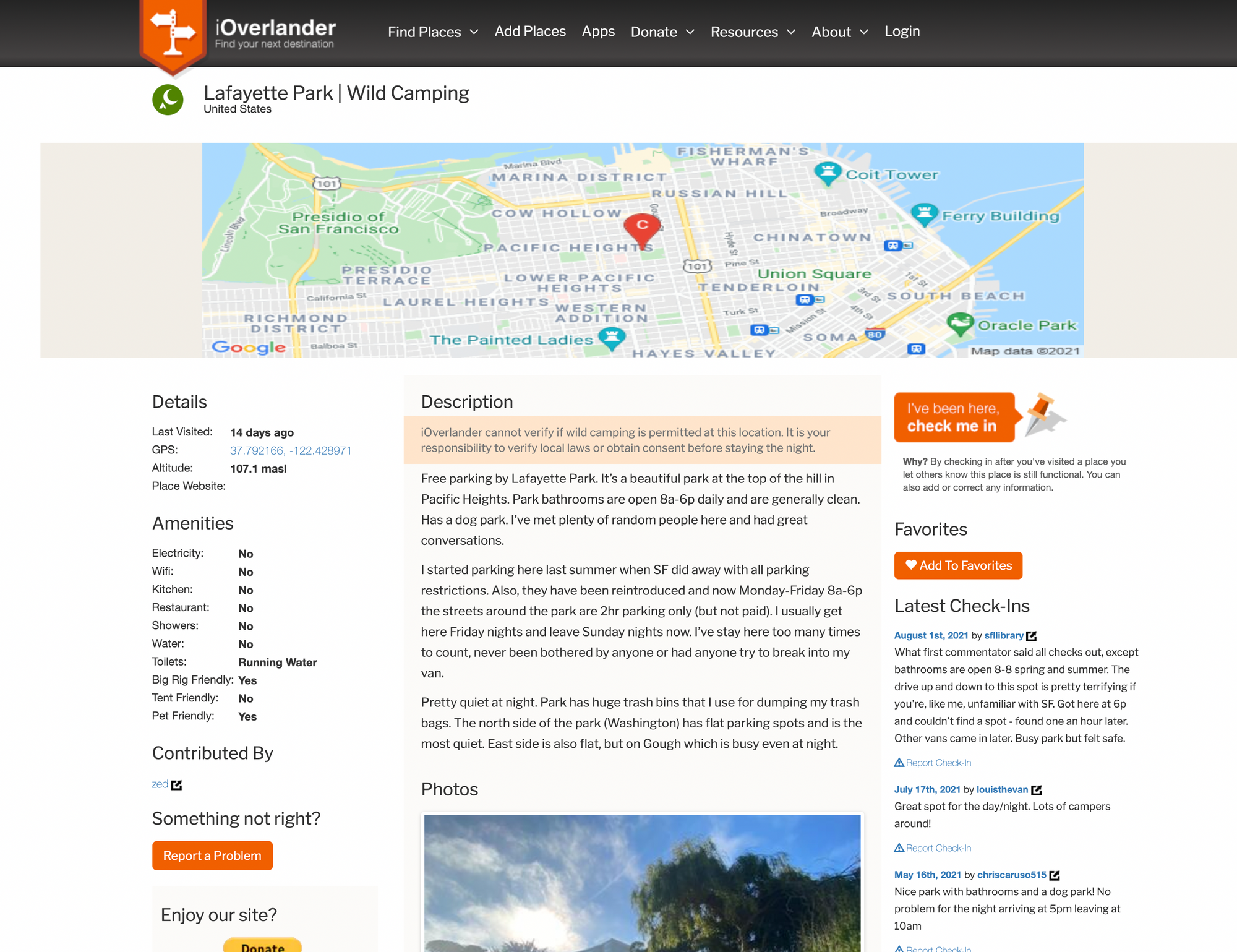 FreeCampsites.net
FreeCampsites.net is Another iOverlander-type website. For example, here's thesame spot near Pismo / SLO as I reference above from TheDyrt. It's not as pretty of an interface as TheDyrt but it gets the job done.
Our Cross Country Armory Road Trip
Inc magazine profiled my roadtrip – here's the video:
My family and I spent six weeks driving all across the US, taking the time to visit with Armory customers, partners, and employees. This was the second year we did it, and we learned a lot from the first time. Namely:
The importance of having the right van setup: The first time we took the trip, we had a 144" 4x4 Sprinter that wasn't fully built out. The main changes we made this year were:
A larger van – Sprinter 170" vs. 144"
Get things off the floor – Mule bags, a rear slide-out, and other ways to store things off the floor – otherwise you're playing tetris all the time, and it's maddening (pulling out a bin from under a bed at night to find the kid's pajamas, and having to move five other things to get to that bin, is nobody's idea of fun)
A dry flush toilet – as I describe in my build thread, we upgraded to a Wrappon dry flush toilet, which is a game-changer
A portable solar power system – this is key for distributed work. I did a bunch of reserach and settled on the Inergy Flex 1500 Power Station, which I describe in detail here.
Flexible seating – we upgraded to the AMF Bruns SmartFloor, which allows for all sorts of seating configurations, and is the foundational base of my modular buildout. Lots of detail on it here.
Also: My van is currently for sale! We realized on this trip we need an even bigger van for our family of 9, so we're going to upgrade to the Sprinter 170" extended version.
Here are a few pics from the road trip, which was incredible!